In the era of Dollar instability and absurd tax implementations on smartphones. The government of Pakistan has started an interest-free initiative with the project name "Smartphone For All". To be more precise the Federal Minister for Information Technology and Telecommunication Syed Amin-ul-Haq on Wednesday launched a scheme in collaboration with KistPay & GSMA (Global System for Mobile Communications) to provide an interest-free installment scheme to buy smartphones.
The "Smartphone For All" plan, according to Amin Ul Haq, aims to increase phone accessibility for the general public with low or moderate income. Who otherwise would not be able to afford them. While also introducing small enterprises to e-commerce as a way to take advantage of the industry's potential. The IT minister explained that under the scheme anyone can obtain a Smartphone easily just through CNIC. Without any lengthy documentation hassle. He further said "Improved access to good smartphones is a key priority. So that everyone in Pakistan can participate in the digital economy. And the socio-economic benefit from increased smartphone penetration can be achieved."
Interest-Free Installment Scheme Procedure:
Anyone who wants to buy a smartphone under this project. Can simply obtain a mobile phone on interest-free installments by depositing a 20%-30% down payment through the scheme. In the first phase smartphones worth 10,000 to Rs. 100,000 will be distributed in 3 to 12-month installments. An important point mentioned in the address is that "If an individual does not pay their installments. The phone will be locked and wouldn't be used anywhere in the world,". However, he did not comment on when the program will begin its course.
Besides Amin Ul Haq, GSMA Asia-Pacific (APAC) head Julian Gorman also addressed the event. While Head of Policy Janet White, Chairman Pakistan Telecommunication Authority (PTA) Major General (R) Aamir Azeem Bajwa, Asif Jafri CEO of KistPay, and Chief Executives of telcos like Ufone, Jazz & Telenor, and Special Communication Organizations (SCO) were also present at the inaugural event.
Julian Gorman said, "A connected population is a basic ingredient for a Digital Nation from which flows digital economic growth, empowered industry and entrepreneurs, and improved livelihoods for every citizen." And that "We must embrace the imperative to get every person enabled with a smartphone and applaud Ministry of IT and Telecommunication and Kistpay for the bold commitment to smartphones for all Pakistan."
"Smartphone For All" Challenges and Solutions:
Syed Asif Jafri also highlighted the challenges being faced by the majority of Pakistanis. In gaining access to both smartphones & Shariah-Compliant Financing. He also talked about the challenges his company faced while making this project possible. One main obstacle or problem was that people often buy Phones on installments and then don't pay the installments. To solve this problem, KistPay has used a special system under which if no one pays the remaining installments. The device will be locked under this system. After which the phone will not be able to be "unlocked" from anywhere. It won't have a SIM, it won't have Wi-Fi, and it won't be usable anywhere in the world.
Syed Amin-ul-Haq as well as Chairman PTA Major General Retired Aamir Azim Bajwa asked mobile phone manufacturers, telecom companies, banks and financial institutions in Pakistan. To come forward and provide smartphones in easy installments to the common people. And do so under the same formula and slogan "Smartphone for All". They both assured that any organization which also wants to take such initiatives will be provided with all possible facilities.
Further Development Plans: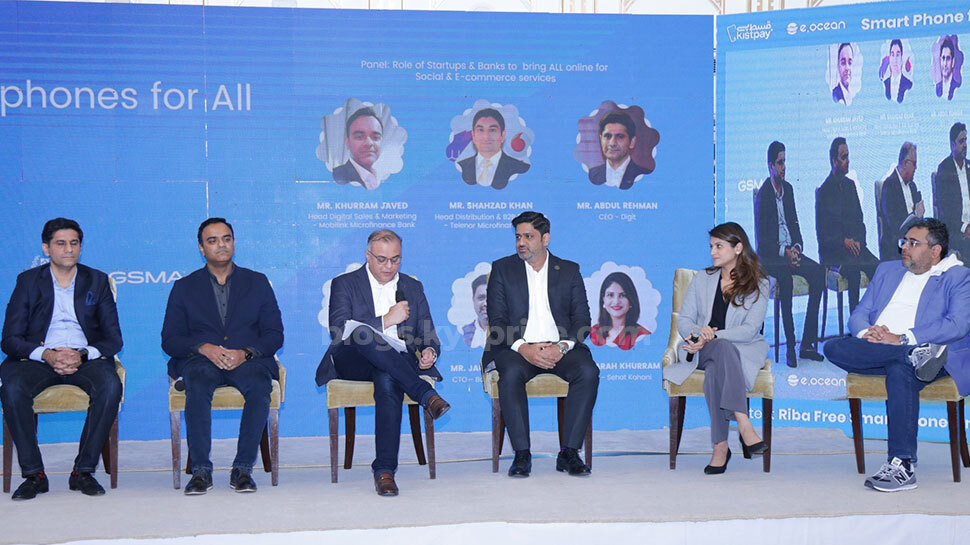 Commenting on technological advancements in Pakistan. The minister further pointed out that: "More than 70 projects worth Rs65 billion are in progress to ensure connectivity facilities. No past government in Pakistan had thought about manufacturing mobile phones in the country in the past decade. But now due to the increasing improvement and innovations in the ministry of IT. 29 companies in the country are making mobile phones now."