It was no secret that Google was going to announce the Pixel 7 & Pixel 7 Pro as its new flagship on October 6. Before the October event, Google had already teased us with some of the upcoming devices. Like the regular and Pro models of the Pixel 7 series and its Pixel Watch. The Pixel 7 & 7 Pro feels and looks like a more refined version of the Pixel 6 & 6 Pro Google launched last year. These phones marked a new chapter for Google's mobile devices, with a bold new design and a brand new Tensor G2 processor. Google couldn't completely smooth them over in this iteration. But it has created a pair of phones that feel like worthy competitors to the iPhones and Samsung Galaxies of the world.
People were calling the Google Pixel 6 & 6 Pro from last year as the best android phones. But they weren't, They were good smartphones with a lot of problems. And with the Google Pixel 7 series, Google is attempting to right a lot of those wrongs. The Google Pixel 7 arrives facing a much bigger and different task than most new phones come with. Unlike most handsets, google does not only simply have to convince skeptical shoppers that there are enough new features and enhancements to justify a new purchase. But also convince all of us that Google may just be on to something here with its new self-designed silicon.
Without a doubt, these are the best Google Pixel smartphone to have ever been released. They have the best display, the best camera, and the best SoC of any Pixel in them.
Price and availability: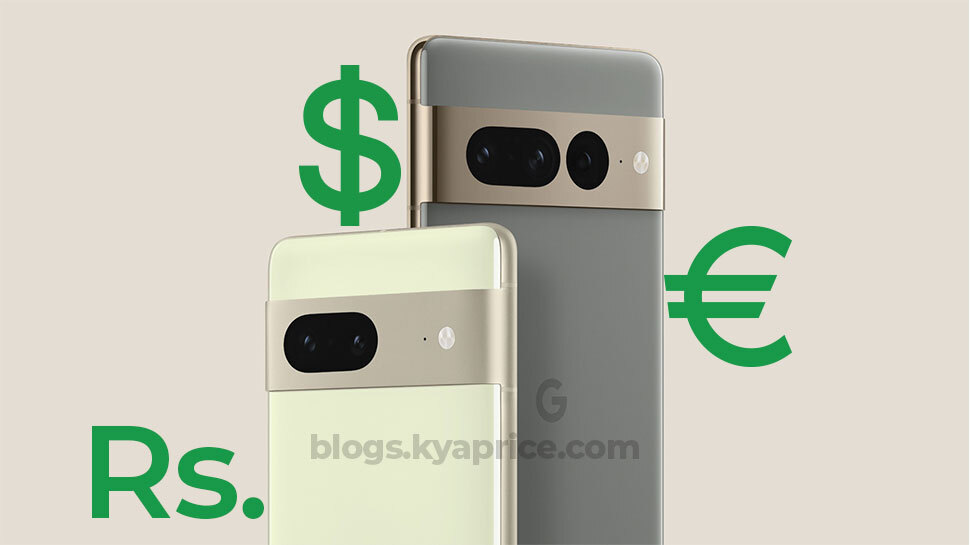 The Google Pixel 7 is now on sale, with the 8GB/128GB version of the phone starting at $599 / £599/ AU$999. There is no increase in the price as compared to the previous model. Both the iPhone 14 and Samsung Galaxy S22 start at $799 in the US. With respect to that you're able to pick up a comparable flagship for $200 less should you opt for Google.
The Pixel 7 also comes with a 8GB/256GB model for $699 / £699 / AU$1,129. Which is also $100 less than the flagship phones from Apple or Samsung in the US.
On the other hand the Google Pixel 7 Pro has 3 different configurations. With the 12GB/128GB version of the phone starting at $899 / £899/ AU$1,299. The 12GB/256GB version starts from $999 / £999/ AU$1,449. And lastly the 12GB/512GB version of the phone coming at the price of $1,099 / £1,099/ AU$1,599. Still both the Pixel 7 and 7 Pro are less expensive then other flagship phones from it rivals.
Google Pixel 7 & 7 Pro Design:
The Google Pixel 7 series has the same look and design as the previous generation phones. So whether you loved or hated the Pixel 6's design, I hope you got used to it. The Google Pixel 7 series doubles down on the design language started by the Google Pixel 6 series. It has the same iconic camera visor on the back, an all-glass design, and rounded sides on the display.
Goggle get rid of the two-tone design language in the 7 series while the curved sides are more subtle. And the camera visor has circles around the camera lenses to make them stand out more. The Camera bar looks more polished this year. As the Pixel 7 swaps out its predecessor's plastic camera bar for an aluminum one with a handsome matte finish. The camera visor also blends slightly more into the side rails of the phone.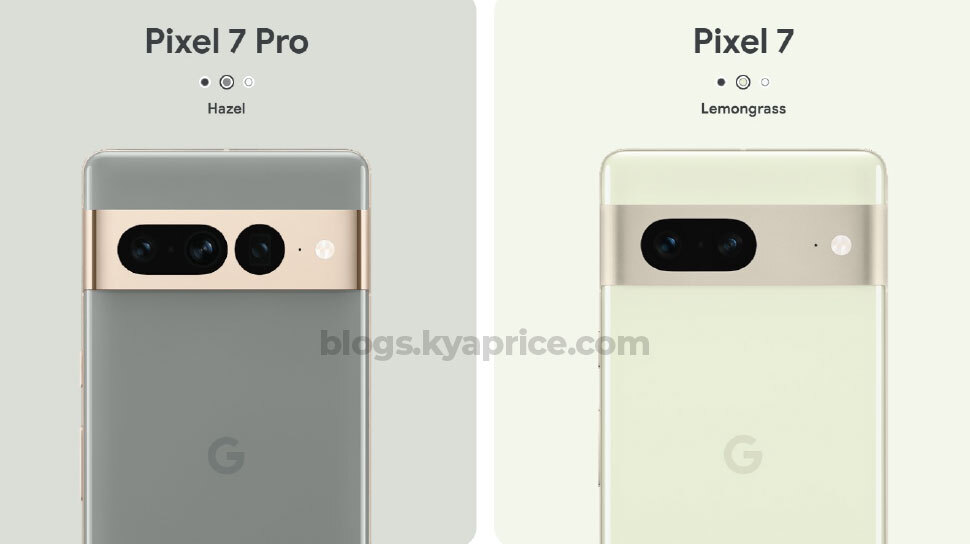 Google has stuck with rounded edges on the Pixel 7, which will please some people. Those edges also make it easy to brush the Pixel's screen accidentally, launching things you had no intention of summoning. The power button and the volume button have also been moved down slightly, meaning that you can't reuse your cases from last year's Pixel 6 Pro if you're planning to upgrade. The placement of new buttons are still strange. And now it's a lot harder to take a screenshot than it probably should be. The bezels have also shrunk, compared to last year's model.
Google Pixel 7 & 7 Pro Display: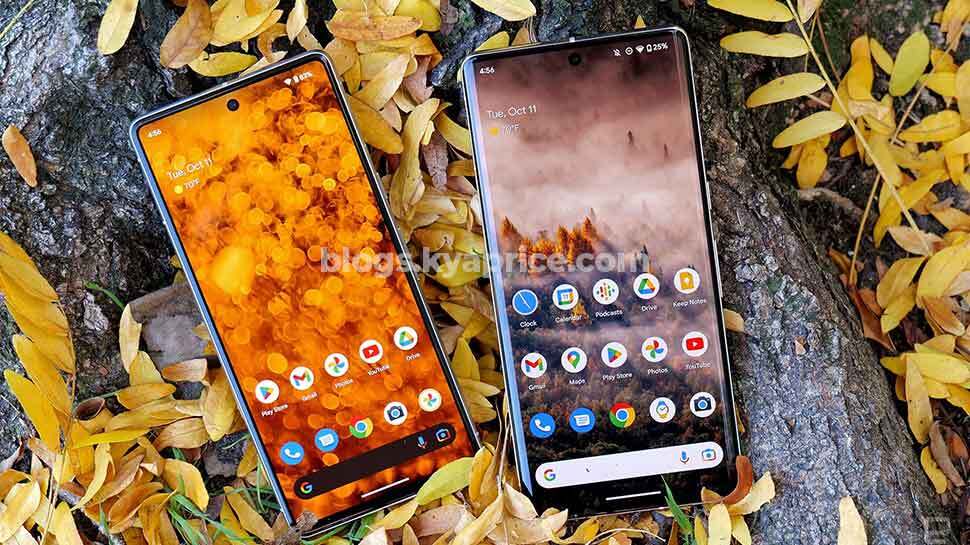 At 6.3-inches, the OLED display on the Pixel 7 is slightly smaller than the previous 6.4-inch Pixel 6 panel. But you would need to have both phones side by side to really spot the difference. On the other hand, the Pixel 7 offers an adaptive 90Hz refresh rate just like its predecessor. While the Pixel 7 Pro comes with a big 6.7-inch QHD+ 120Hz AMOLED panel. Which is set to full HD by default in the device settings when you first boot it up.
Google says they're both 25 percent brighter in direct sunlight. Which means that they run at up to 1000 nits in normal use. And can push to 1400 nits at its peak for better visibility in bright surroundings. The phones are basically the same as the Google Pixel 6 & 6 Pro, and the weight feels evenly distributed throughout the phone. The phone still feels like hollow under the display. Which basically shows how easy it is to swap out the display on this device.

The cooler accuracy is not that great as compared to the flagship phones of Apple and Samsung. Certainly, just in watching videos, you wouldn't fault the Pixel 7 display for a lack of color. Additionally the bezel at the bottom of the screen is noticeably thicker than what you see on other flagship phones these days. 
The Pixel 7 and 7 Pro include two methods for biometric unlocking: fingerprint and face. Face unlock is a new addition this year. The fingerprint is still an optical-type scanner that briefly flashes bright light where the sensor is located under the screen to read your fingerprint, which is a little jarring in a dark bedroom.
Google Pixel 7 & 7 Pro Performance:
As expected, the Pixel 7 phones come with the new generation of Google's own Tensor processor. Google Tensor G2 is the successor to last year's Tensor chipset. Pixel 7 and 7 Pro arrived with a mobile chipset made specifically for Google's own Pixel smartphones. Along with the new hardware and software features.
New Google Tensor G2 SoC with 8GB & 12GB RAM
Focus on machine learning and AI functionality
Benchmarks somewhat behind rivals, but great in real-world use
Google says that with the Tensor G2, "we've improved almost every major subsystem in the chip, and we've designed them to work really well together to handle the nuanced and complex nature of our software and machine learning."
It's a good thing that the Tensor chipset powers so many unique features because it's still not the silicon to turn to for the ultimate mobile performance. The gap has narrowed between Google's latest Pixels and devices powered by the Snapdragon 8 Gen 1 from Qualcomm. But the performance gap will increase soon with the new smartphones. Like the Galaxy S23 which will be coming in the next few weeks. Because the Snapdragon 8 Gen 1 chipset came out at the start of 2022. And it is about to be replaced by the upcoming Snapdragon 8 Gen 2
Trying to put Tensor G2 silicon of Pixel 7 & 7 Pro through its paces is trickier than with conventional smartphone chipsets. Especially when it comes to benchmarking the AI and machine-learning tasks it's been optimized for. 
Phil Carmack, Vice President and General Manager of Google Silicon once said in an interview with Ars Technica last year. That when you "Open up your camera, you have a live view. And a lot of really interesting things are happening all at once. You've got imaging calculations, rendering calculations and ML [machine learning] calculations. Just because maybe Lens is on detecting images or whatever. During situations like that, you have a lot of computation, but it's heterogeneous". Which means that all of it runs on different parts of the chipset at the same time.
One of the disappointments with the Pixel 6 last year involved the phone's fingerprint sensor. The under-display sensor was slow to respond when it even could recognize your fingerprint at all. Google has improved things with the Pixel 7's sensor, which at least speeds up the unlocking process. Furthermore, we are no longer dependent on the fingerprint sensor to unlock our Pixel 7 devices. The Pixel 7 series adds face unlock and lets you unlock the device with a facial scan. Additionally, This feature is also speedy,
Google Tensor G2: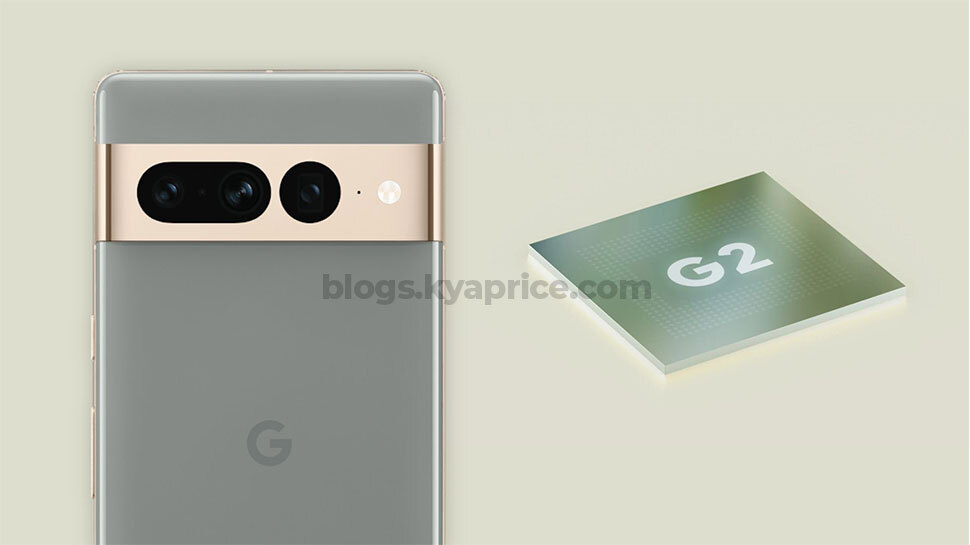 The difference between Tensor and any other Soc like Qualcomm, MediaTek, or Exynos chipset is that Tensor is made for the betterment of the software. This chipset is not being used anywhere else by any other device. And it's specifically created to work with Google's own smartphones. It gives google an inherent advantage over other android phones in optimizing its own smartphones.
Last year, Google talked a lot about how optimizing individual parts may grant better peak CPU and GPU speeds which will look great in benchmarks, but they "don't always reflect real-world speed". With that in mind, it is very true that Google's Tensor G2 does not compete all too highly in benchmarks. There is no need to think and say that it's bad as we are well past the stage. Where we can say that a phone will undoubtedly perform worse simply because it scores worse in a benchmark testing. Moreover, if it's just as good in real-world experience and usage as competitors that may score higher on CPU-bound benchmark tests, then who cares?
For now, the Pixel 7 turned in respectable scores of 1,054 single-core and 3,021 multicore when we ran Geekbench 5 to measure overall performance. Compared to 1,024 and 3,348, respectively for the Galaxy S22. Whereas, the Galaxy Z Fold 4 which has a newer Snapdragon 8 Plus Gen 1 chipset. Finished with 1,328 single core & 3,831 multicore results. While the iPhone 14, with its A16 Bionic chipset stands at top.
In our real-world test, where we have each phone transcode a 4K video to 1080p in Adobe Premiere Rush. And the Pixel 7 finished the task in 47.6 seconds scoring 2nd position after the iPhone 14 pro.
The TPU Tensor Processing Unit is Google's integrated machine-learning engine. It is custom-made by Google for running the company's own machine-learning algorithms. It's tailored specifically towards the company's vision for a smartphone. There are also security improvements thanks to the coupled Titan M2 security chip. It's there to make sure your passwords and data remain scrambled against prying eyes. And is generally considered to be a capable piece of hardware that stands up to industry standards on security.
You can also transcribe audio messages on Google's Messages app and later in 2022 Clear Calling will use Google's machine learning to do things like minimise wind and traffic noise and enhance the caller's voice.
Google Tensor G2 still retains ties to Samsung's Exynos chipsets due to drivers. Making direct reference to "Exynos" by name. This chipset also has a brand-new Samsung modem, the Exynos 5300. Which has never been used in any previous Samsung device before this.
Battery Life and Charging: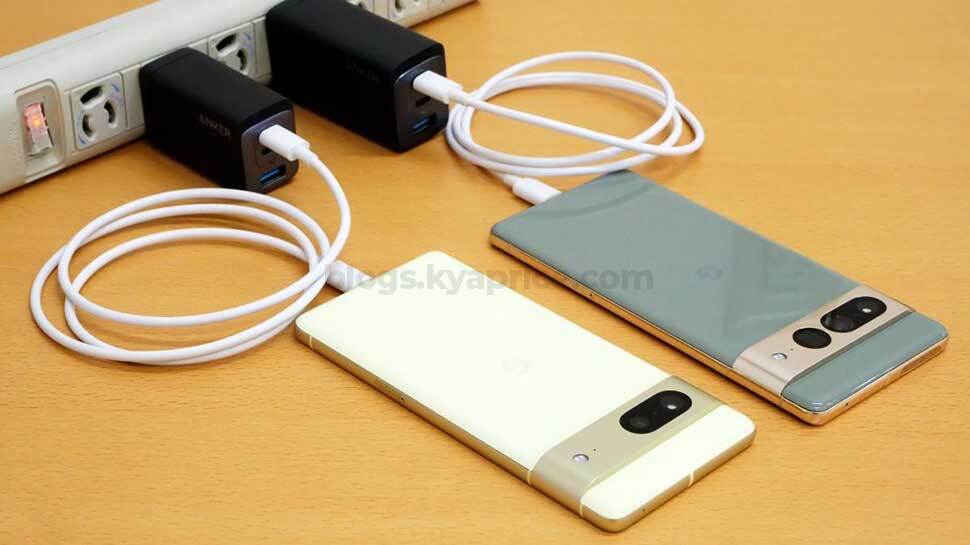 Another area where the Pixel 6 failed to shine was its battery life and the same can be said for the Pixel 7 series. The 4,355mAh battery in the Google Pixel 7 may sound large, but we wish it was bigger. Especially as it's technically a reduction compared to the 4,614mAh battery inside the pixel 6. While the Tensor G2 promises better power efficiency, the Pixel 7 series continues the trend of Google's phones struggling with our battery test. Perhaps, that's not a surprise depending upon the reduced battery size. Google claims that the Pixel 7 series can go for 24 hours on a full charge with normal usage. And we found that to be somewhat true in real-life usage.

Perhaps the weakest aspect of the Pixel 7 series battery performance isn't longevity but recharging. As the phone only has the same 21W and 23W top speed as its predecessor. Allegedly, the Pixel 7 can support 30W charging, but Google said the same thing last year when the top speed was closer to 23W. The company says that 23W charging with a USB-PD-compliant charger will get your Pixel 7 Pro 50% in half an hour. This is true, but to fully charge the phone takes in and around an hour and a half. The same thing applies to Pixel 7, as we only got to 41% after 30 minutes.
For anyone who has used any kind of fast charging technology, this is pretty slow. You can't expect to toss the phone on to charge for ten or fifteen minutes and get a day's power or anything like that. The phones also get a little bit warm while charging, but they are not uncomfortably hot. Additionally, the Google Pixel 7 Pro, just like its flagship predecessors, supports wireless charging. The charging coil is in the center on the back of the phone, it Supports unto 23W wireless charging. Moreover, it also reverse wireless charge at 5W speed on any Qi-enabled device.
Google Pixel 7 & 7 Pro Cameras:
The other main area of development that Google wants to highlight in the Pixel 7 phones is better cameras. The Google Pixel 7 Pro has a few camera hardware changes in comparison to the Google Pixel 6 Pro. It retains the same 50MP Samsung GN1 main sensor but except that everything is different. The ultra-wide has been swapped over to a Samsung GM1 instead of an IMX586. And it's also 21% wider and can be used for macro photography. As for the telephoto, it's increased from 4x to 5x. 
Moreover Super Res Zoom which now goes to 8x on Pixel 7 and Pixel Pro Zoom up to 30x on Pixel 7 Pro. Previously Super Res Zoom 7x and 20x respectively. With Google saying "We've also achieved optical quality similar to a dedicated 2x telephoto lens for Pixel 7 and a 10x telephoto lens for Pixel 7 Pro." The Samsung GN1 primary sensor measures 1/1.31 inches, it has a 1.2μm pixel size, an f/1.85 aperture, and an 82-degree field of view. Google also employs Quad-Bayer pixel-binning on this camera, giving a real resolution of 12.5MP.
On the other hand, While the Google Pixel 7 lacks the 48MP telephoto sensor that remains exclusive to the Pixel 7 Pro. We're still getting the same 50MP main camera as the Pixel 7 Pro and a similar 12MP ultra-wide. But, unlike on the Pro this sensor lacks autofocus, thus there's no new Macro Focus mode on the standard pixel 7.
This year, we also get the same 10.8MP punch-hole selfie snapper across both the standard and Pro models, plus 4K video recording up to 60fps and support for 10-bit HDR video capture for better colors, brightness and contrast.
While the hardware is interesting. But the Pixel camera experience is really more about the processing and software. Which here are supported by that Tensor G2 chip. There are other improvements too, mostly in the Image Signalling Processor (ISP) and in Tensor G2's AI models for photography processing.
Lets talk about some of the camera features from both phones. Starting with Photo Unblur, which does as you'd expect. It is a Google Photos feature coming to Pixel 7 phones first. And Google has also updated the Real Tone algorithm having trained it with more than 10,000 portraits. To ensure skin tone is as accurate as possible.
What's more, the Pixel 7 models lets you do more with your shots compared to last year's Pixels. The already-superb low-light shooting mode which Google brands as Night Sight is now faster in operation. And thanks to some smart algorithmic work the Face Unblur feature has been expanded to full Photo Unblur. Which, although not perfect, is the best on-device example of such a tool we've seen. Making an otherwise challenging photo edit as easy as dragging an on-screen slider.
Also, the Night Sight now only needs half the amount of exposure time to capture detailed images in low-light situations. Guided Frame helps blind or low-vision users to capture selfies. With a combination of audio guidance, high-contrast visual animations and haptic feedback.
On the video side, there's now a mode called Cinematic Blur. That by no coincidence, does what Apple's Cinematic mode does on the iPhone. It uses software to apply a portrait mode shallow depth-of-field effect. To keep your subject in focus while blurring the background. It does a nice job, but tricky backgrounds like a tennis court net can trip it up, and it's not great in low light. However compared with the iPhone, it looks better than I expected it to be. And it's something I'll keep using when the occasion calls for it.
Specifications:
Pixel 7 Specs:
Android 13
6.3in 20:9, 90Hz flat Full HD+ (2400×1080), OLED HDR
Google Tensor G2 chipset
Titan M2 security chip
8GB LPDDR5 RAM
128/256GB UFS 3.1 storage
50Mp wide camera w/ 1.2μm pixels, f/1.85, 82° FoV, 1/1.31in image sensor, OIS + EIS, 8x Super Res Zoom
12Mp ultrawide camera w/ 1.25μm pixels, f/2.2, 114° FoV, lens correction
LDAF (laser detect auto focus)
10.8 MP hole-punch front camera w/ 1.22μm pixels, f/2.2, 92.8° FoV
In-display fingerprint sensor + Face Unlock
Stereo speakers
USB-C (3.2 Gen 2)
Dual SIM (via eSIM)
4355mAh battery
Wired charging up to 30W (USB-PD 3.0 + PPS)
Wireless charging
Battery Share
Extreme Battery Saver
WiFi 6E
Bluetooth 5.2
NFC
GPS
Sub6 + mmWave 5G (varies by market)
195g
155.6 x 73.2 x 8.7mm
IP68
Gorilla Glass Victus front
Edgeless Gorilla Glass Victus rear
Matte aluminum frame
Colours: Obisdian, Snow, Lemongrass
Pixel 7 Pro Specs:
Android 13
6.7in 19.5:9,120Hz curved-edge Quad HD+ (3120 x 1440) LTPO OLED HDR display
Google Tensor G2 chipset
Titan M2 security chip
12GB LPDDR5 RAM
128/256/512GB UFS 3.1 storage
50Mp wide camera w/ 1.2μm pixels, f/1.85, 82° FoV, 1/1.31in image sensor, OIS + EIS, Super Res Zoom up to 7x
12Mp ultrawide camera w/ 1.25μm pixels, f/2.2, 114° FoV, lens correction
48 MP Quad Bayer PD telephoto camera w/ 0.7 μm pixel, f/3.5, 5x optical zoom, 30x Super Res Zoom
LDAF (laser detect auto focus)
10.8 MP hole-punch front camera w/ 1.22μm pixels, f/2.2, 92.8° FoV
In-display fingerprint sensor + Face Unlock
Stereo speakers
USB-C (3.2 Gen 2)
Dual SIM (via eSIM)
5000mAh battery
Wired charging up to 30W (USB-PD 3.0 + PPS)
Wireless charging
Battery Share
Extreme Battery Saver
WiFi 6E
Bluetooth 5.2
NFC
GPS
Sub6 + mmWave 5G (varies by market)
212g
162.9 x 76.6 x 8.9mm
IP68
Gorilla Glass Victus front
Edgeless Gorilla Glass Victus rear
Polished aluminum frame
Colours: Obisdian, Snow, Hazel
Verdict:
The Pixel 7 would be compelling enough if you would be buying it for its cameras. This is a phone that can go toe-to-toe with the iPhone 14 in photo face-offs, even beating it in some aspects. Coupled with the Tensor-powered features and a bright, colorful display, which makes the Pixel 7 even more compelling. Moreover, the Pixel 7 is the least expensive phone in its class.
The Google Pixel 7 Pro looks like the more compelling of the two phones. Due to its specs and price range combination. But if you don't want to spend more than $600 on a smartphone. The Google Pixel 7 is a more suitable option for you and fits the bill as well. There are some other factors which can help you more in deciding whether you should buy these or not.
You should buy the Google Pixel 7 Pro if:
You want a phone that stands out
You want the best Google Pixel yet.
You're a creative mobile photographer.
You want AI features that make your day easier.
You like Google's assistive features
You should not buy the Google Pixel 7 Pro if:
You're a gamer.
You want a compact phone
You need long, consistent battery life.
You shoot a lot of video
You need fast charging.
You need a lot of storage
You need more value out of your phone.