Tecno introduced the Tecno Camon 19 Pro Mondrian back in June during an event at Rockefeller Center in New York. It was launched with only 2 two color options, but now it is getting a third option as it makes its way to Pakistan.
Tecno Camon 19 Pro Mondrian Price & Availablity:
This Latest, one-of-a-kind award-winning phone from Tecno is now finally available for sale in Pakistan at a price of Rs 51,999. You can buy Camon 19 Pro Mondrian from any Tecno retailer in Pakistan or from many online websites and stores including daraz, where you can get a free TECNO branded bag along with the phone.
Design:
The smartphone's back panel is divided into individual squares that can change color under sunlight. The all-white panel changes into a pattern of interesting purple and white blocks. However, once you put it out of the sunlight, it changes back to the original shade within a minute.
At first glance, the Camon 19 Pro Mondrian Edition gives the impression that Tecno has made a white smartphone finished with stark black lines that form an artful pattern of squares on its back. However, the OEM asserts that exposing this rear panel to light turns its colors up in a way that lives up to its name.
Which is named after the renowned Dutch artist Piet Mondrian. The abstract works of the artist served as the inspiration for the Camon 19 Pro Mondrian edition. The device has also won a Silver Award and a Muse Design Award for its aesthetic and design. Apart from Nothing Phone 1, Its good to see some more innovation and uniqueness in the current mobile industry. Because when it comes to physical looks almost every phone looks the same these days.
Tecno has yet to reveal the materials or techniques with which this effect is to be achieved. However, it might well be something along the lines of the photochromic technology OPPO/OnePlus hoped to make a thing a few years ago.
Tecno Camon 19 Pro Mondrian Specs:
The Camon 19 Pro Mondrian supports a 6.8-inch FHD+ display with a 120Hz refresh rate and 94.26% screen-to-body ratio. The phone comes in a single variant of 8 GB RAM and 128GB of internal storage, equipped with MediaTek Helio G96 SoC. Featuring a triple camera setup on the rear with a 64MP main camera with RGBW sensor and a 50 MP 2x portrait cam and a 2MP depth sensor. The shooters also have EIS, OIS, and HDR support. There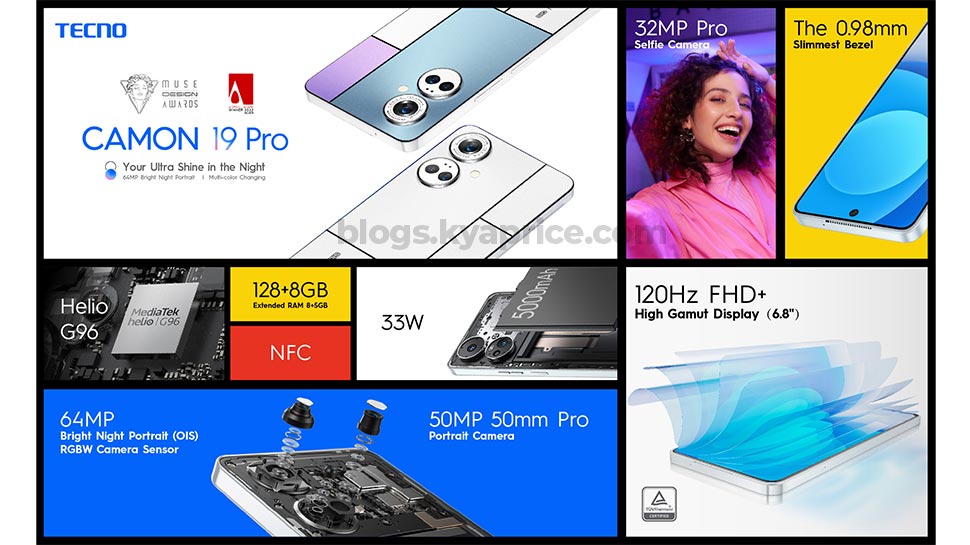 Is also a 32MP selfie camera on the front which takes decent pictures. The phone packs a 5,000 mAh battery and the company claims to deliver a standby time of 37 days on a single charge. The phone comes in a single variant of 8 GB RAM and 128GB of internal storage.
At the successful launch of the camera-focused Techno CAMON 19 Pro Mondrian. The CEO of TECNO Mobile Pakistan, Kelvin Zeng said that "TECNO is one of the top smartphone brands in Pakistan", So we are expecting a lot of things from the brand.