The Government of Pakistan is planning to increase tax on Graphics Cards. The last 3 years were very tough for the Gaming community all around the world and especially for Pakistan. Due to the rise of cryptocurrency, NFT & low production due to the pandemic. The prices of graphic cards went exponentially high in the global market.
Both AMD and Nvidia Graphics cards from all vendors were selling for much more than their actual MSRP rates. The prices for the ready stock in the market went as high as 50-60% of their original MSRP. It's been a while since the global GPU shortage ended and the prices are deflated back to normal. Thanks to the recent cryptocurrency crash and diminishing demand for graphics cards.
Reason For high GPU Prices in Pakistan:
All PC gamers have been struggling quite hard to get their hands on GPUs for almost two years now. Finally the graphic cards are now available at their original price (MSRP) globally. And some are even offering discounts on their original price tags. As companies struggle to clear their stocks before they launch new cards.
Even with all of this the graphics cards in Pakistan are still going for ridiculous rates due to the massive fluctuations in $ – Pkr prices. And when things finally started to look good for the Pakistani gaming community, the Govt Of Pakistan has announced an increase in tax on Graphics Cards which are going to make them even more expensive, as if the GPU shortage and the depreciation of the Rupee weren't enough. the Pakistani gaming industry still doesn't seem to gain the relief they were expecting.
According to the details, the new taxes and duties will be applied to graphic cards (GPUs) based on their Vram specifications.
Old Tax on Graphics Cards:
There were already tax on graphics cards in Pakistan but many people didn't know about them and those taxes were not that high and strictly imposed in here. It is appropriate to mention that graphic cards (GPUs) had no Strict tax Assessment Guidelines in the past. Below are the the old guidelines of Tax on Graphics Cards which i found on FBR website some 2 years ago.
Description:- GRAPHIC CARD
PCT CODE:- 38473.3090
Quantity of unit:-KGS
Custom duty@03.00%
Sales tax@17.00%
Income tax@ 6-9% (I will take it 9% for the sake of it)
Additional Custom duty@01.00%
Total tax: 30%
As you can see there were already guidelines to impose 30% total tax on the graphics cards in the past. However, that is about to change as Pakistan Custom has given details on how these new taxes and duties will be assessed on the import of GPUs.
How Tax on Graphics Cards Will Be Deducted:
Here is how duties on graphics cards will be assessed at customs from now on. It varies by the VRAM capacity of a GPU. This makes no sense as different cards have different prices even tho they have the same Vram. So, there is a high chance that these guidelines will be modified or changed in the coming days. Below are the updated tax guidelines as of now.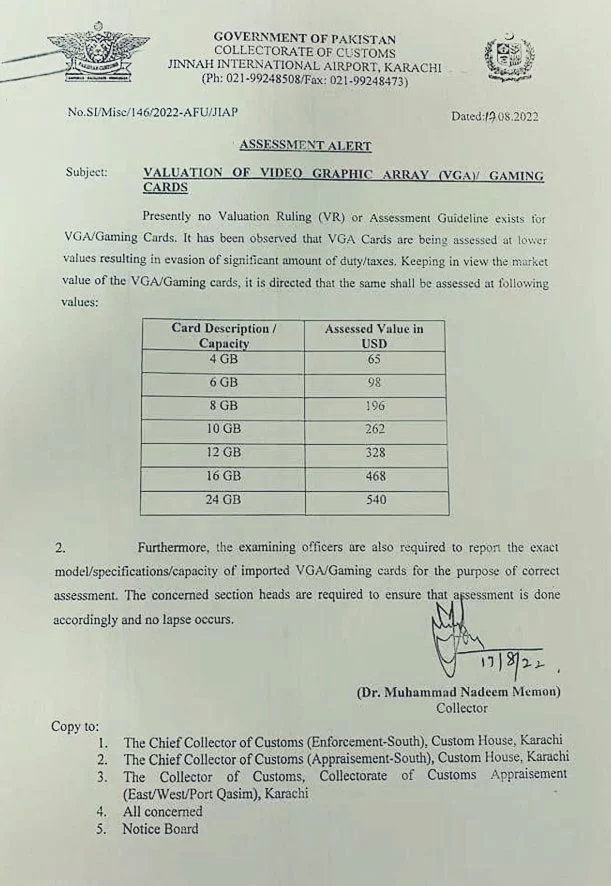 The exact duties according to the officials are calculated by multiplying the Assessed Value in USD. Not the MSRP rates of a card by 36% & then converted to par according to the current USD exchange rate. For example, if a card has 6GB VRAM. You would multiply $98 its Assessed Value in USD with 36%, which is $35.28. The final result is then multiplied by USD's current value. To calculate its worth in PKR ($35.28 x 214 = Rs. 7550).
Furthermore, Several months ago, there was news in the local gaming groups, communities & media. That Pakistani Customs has taken up to 700 RTX graphics cards in custody. These were recovered by Pakistan Customs from the warehouses of the local wholesalers. These cards have been locked up for over 60 days in their warehouses. The authority has also imposed heavy fines of up to Rs. 4 million on local distributors.
Bad News For Gaming and IT Industry:
For the past 1 year, there was a little optimism in the gaming community. That graphic card prices will fall in the local market but that is also diminishing now. Gaming is a $300 billion+ worth industry. Global gaming industry revenues are expected to exceed $320 billion by 2026. While the country continues to confront economic challenges such as tax increases across the board. E-sports in Pakistan has a unique potential, as E-Sports players have excelled in several contests. Making it the top position in Pakistan and globally making millions of dollars $$. Gaming tournaments have proved to be more valuable than other competitions in recent years as well.
Gaming Industry Usage:
Dota 2, CSGO, Valorant, PUBG, Call Of Duty, FreeFire & PUBGM were the most popular competitive games in Pakistan. Valorant and PUBG Mobile are currently the most popular games in Pakistan. Gaining increasing popularity and attracting several sponsors for tournaments. E-Sports is undoubtedly a multibillion-dollar business. And Pakistan is rapidly demonstrating its ability to develop a pool of talent in various games with larger prize pools. So, we may expect local gaming industry specialists to speak out against the growing problem in the near future.
IT Industry Usage:
Apart from gaming GPU's are also used for data analytics and machine learning. Aside from that, it's commonly used for 3d designing, rendering, and animation. Also, not just for video game creation but also for the architecture and film industry. All of which is seen running parallel to IT industry in developed countries as well as developing economies like India. These industries are among those that are crucially needed by this country for service export.
Moreover, taxes should be on luxury items like applying taxes on iPhone products. Or products that our country produces and does not use for productivity. Pakistan really needs production in this country, especially the one that generates foreign income. Card shortages, highly expensive prices, and now inflation have already deprived professionals & freelancers of this tech. Tax on graphics cards was the last thing they need these days.