The best gaming keyboard is more than a simple mechanical keyboard. For one, most of the best keyboards come plastered in RGB LEDs, so they're anything but dull. There's more to a great gaming keyboard than flashing lights, however, the real key to success is an excellent response. There are a few important factors to consider when purchasing a keyboard specifically for gaming use. Such as the latency, switch types, key rollovers, and overall comfort & feel.
You should also consider any additional features you want like RGB backlighting, media controls, or software customization options. These little things can help make your gaming experience as fluid and fun as you want. In general, most gamers look for mechanical keyboards as they typically offer more features. Like better build quality, and an elevated typing experience. That's why our recommendations lean more towards mechanical offerings. Gaming keyboard preferences vary wildly and the number of options can be overwhelming. Media controls, volume wheels, keycaps, macro keys & switch types used are just some of the things you need to consider. Keyboard switches come in such a cornucopia of colors and types that it's enough to make the layman cry.
Whether you're battling through an FPS, exploring an open world, or just want a better typing experience all around. Check out the best gaming keyboards we've tested below. We've compiled a list of the best gaming keyboards for every kind of gamer. Whether you're a Cherry Red or a Razer Green person we have a recommendation for you. And they will deliver an exemplary combination of responsiveness, features, and style.
Corsair K95 RGB Platinum XT Gaming Keyboard:
SPECIFICATIONS
Switches: Cherry MX Blue, Brown, or Speed Silver
Backlight: Per-key RGB
Type: Full-size
CORSAIR's K95 RGB Platinum XT turns one of the best gaming keyboards into an obvious go-to for video streamers. If you're willing to spend on a premium mechanical gaming keyboard, Corsair K95 RGB Platinum XT won't let you down. It's one the best gaming keyboards we've tested but is expensive, partially thanks to features that some will consider unnecessary.
It's the latest iteration of Corsair's flagship K95, and this time Corsair's upped the bar on luxuries. Like, double-shot keycaps and a padded leatherette wrist rest. Streamers even get support for Elgato Stream Deck software, which is usable with the keyboard's six macro keys. That also means you can save $150 on a separate Stream Deck. Corsair tops it off with familiar high-end mechanical keyboard choices. Including a brushed aluminum build, volume wheel, and per-key RGB lighting.
The board comes with Cherry MX Brown (tactile & quiet) and Silver Speed (fast & quiet) switches, but we tested the Blue version. The switches were great for daily typing, but we'd prefer either the quieter or short-actuating switch choices for gaming. There are no linear options, such as Cherry MX Red, here.
Razer BlackWidow V3 Pro Gaming Keyboard: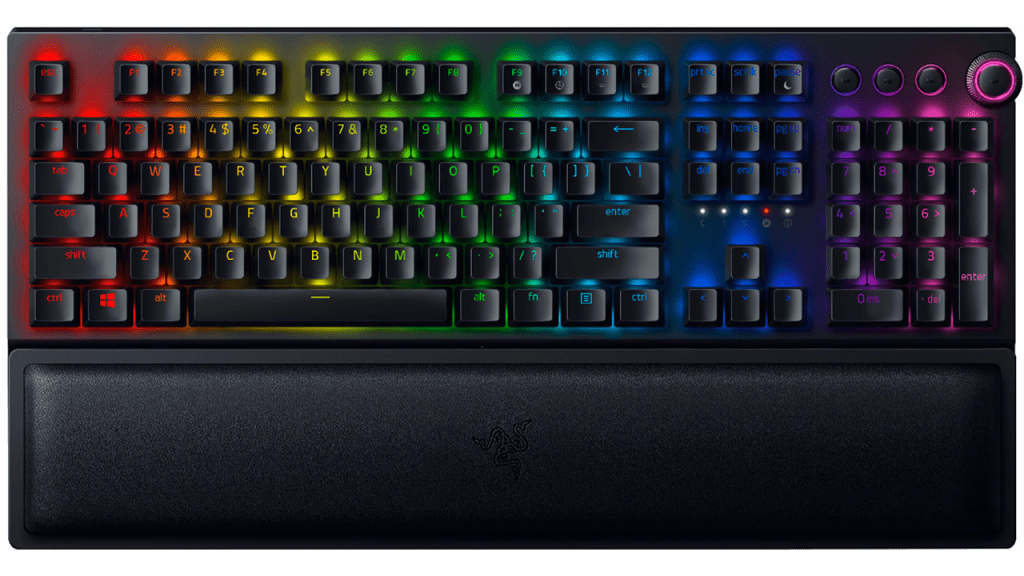 Specifications
Switches: Razer Green (clicky) or Razer Yellow (linear)
Backlight: Per-key RGB
Type: Full-size
If you want the same experience as your typical full-sized mechanical gaming keyboard but without wires. The Razer BlackWidow V3 Pro is the best wireless gaming keyboard we've tested. While many wireless keyboards are built for traveling. However, the BlackWidow V3 Pro maintains all the size, bulk, and functionality of a full-sized mechanical keyboard. Including a premium tactile volume dial, media keys, an aluminum top plate, and Doubleshot ABS plastic keycaps.
As this is a Razer product, it works with Synapse 3 and Razer Chroma. So you can pair your keyboard with other Chroma-compatible products to tie the RGB of your setup together. Its battery life is advertised to last up to 200 hours with the backlighting off, or less than that. It all depends on your effects and brightness when you have the RGB lighting on.
When buying, you can choose from Razer's clicky Green or linear Yellow switches. Both of these are designed with gaming in mind, meaning they're light to actuate and have a short pre-travel distance. This keyboard's latency with its USB receiver clocks in at just under a millisecond. Making it the fastest wireless keyboard we've tested & one of the most responsive keyboards in general. So it's really up to you if you prefer the silence of a linear switch or the distinct ping of a clicky switch.
Razer also didn't skimp on the BlackWidow V3 Pro: It's packed with up to four profiles of onboard memory and vibrant per-key RGB lighting. However, RGB doesn't stick to profiles — advanced RGB fanatics will have to rely on software for pairing RGB, including custom effects, to profiles.
SteelSeries Apex Pro Gaming Keyboard:
Specifications
Switches: Linear Blue / Red Switches
Backlight: Per-key RGB
Type: Full-size
The SteelSeries Apex Pro is an incredible model for gaming. Although it doesn't have 44 RGB zones, dedicated macro keys, and included PBT keycaps like the Corsair K100 RGB. This keyboard has proprietary OmniPoint switches, which allow you to adjust the pre-travel distance on a per-key basis. It means you can set your WASD keys to a minimal pre-travel distance for a super-sensitive gaming experience. But you can also keep the rest of your keys at a more standard pre-travel distance for chatting away without worrying about typos.
Those who like clicky, tactile typing should consider something else, because the Apex Pro's switches definitely have a linear feel. This keyboard also has the innovative ability to set the actuation point for individual keys for a highly custom feel. This is a rare trick and one that the Apex Pro delivers in an effective fashion.
There's also a whole host of hardware features, like a programmable OLED screen. Where you can display a GIF or an image, or you can use the screen to make on-the-fly settings adjustments. Or, if you want to game with a controller on your PC, you can use the USB-passthrough feature to connect it. Of course, it's no surprise that the latency on this keyboard is outstandingly low. It's well up to the task of handling any game you throw at it. If you don't care about RGB zones or having the kitchen sink built into the keyboard. This keyboard is a solid choice as it adds a whole new dimension of customizability to a high-performing gaming board.
Wooting Two HE Gaming Keyboard: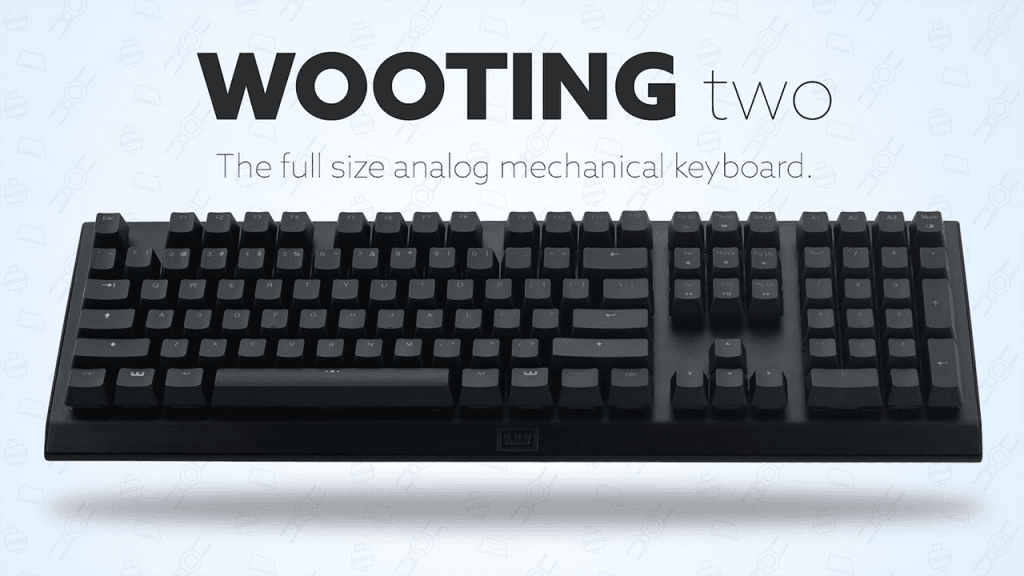 SPECIFICATIONS
Switch: Lekker (Gateron)
Size: Full size
Backlight: RGB LED
While many of the above keyboards are packed full of extra hardware features like USB passthrough or volume knobs. The Wooting two HE takes gaming keyboards in a different direction. It also uses proprietary magnetic switches that allow you to control the pre-travel distance but takes this technology a step further by widening the range. You can set your pre-travel distance from an ultra-sensitive 0.1mm (so don't breathe too hard, or you'll activate the key) to a hard-bottomed 4.0mm (if you want to work out your fingers).
The Wooting Two HE differs from the Wooting One and Wooting Two in how it measures analog input, however. Where the older Wooting boards relied on optical Flaretech switches, the newer HE board uses the Lekker switch, made by Wooting with popular switch maker Gateron, and relies on the Hall effect to achieve analog input. In the Wootility v4 software, a game will need to register this switch actuation as either DirectInput or Xinput. That means you'll largely want to set your left analog stick up, down, left, and right to your WASD keys on the Wooting, in order to replicate the best bits of analog controller movement.
As an added plus, the companion software has a web-based version, so you don't have to load your PC up with bloatware to customize your keyboard. There are tons of software features to play around with, including not one but two multi-input features, handy for fast-paced games like Valorant and Fortnite, where every millisecond counts. Though it's not yet available through many popular online retailers, you can pick this keyboard up directly from Wooting's website.
The Wooting Two HE is analog at its very best, and if you want heaps of customizability, this is the gaming keyboard for you.
Corsair K100 RGB Optical Gaming Keyboard:
SPECIFICATIONS
Switch: Corsair OPX
Size: Full size
Backlight: RGB
Let me start by saying that while I was impressed by Corsair's previous offering, the K95 RGB Platinum, I struggled with the price. Struggled. No matter how good it is, $200 is a lot for any keyboard. Corsair K100costs even more. At $230, it is 15 percent pricier, but will you get the 15 percent more out of it? Possibly. Possibly even more.
This gaming powerhouse is loaded with extra features in both the hardware and software to optimize your gaming experience. With its split millisecond latency, gaming feels incredibly responsive with no noticeable delay. Plus, this keyboard comes with your choice of Cherry MX Speed or Corsair's OPX switches, both of which have a short pre-travel distance and feather-light actuation force, so keypresses are sensitive and fluid and your keyboard will register a keypress right as you react.
The fundamental core of the K100 is very much like the K95, with the same premium quality throughout, the same overall design, the same macro keys down the left-hand side, the same metal roll in the top right corner, and the same media keys just below it, and the same double-shot keycaps. USB passthrough is easy to access and you get a comfortable wrist rest that snaps on magnetically just like before.
All of its great features come wrapped up in a well-built package. There are 44 lighting zones built into the frame, and each key is individually backlit, so you can take your RGB enthusiasm to the next level and customize every zone in the companion software to perform various lighting effects or just display static colors that match your setup's theme. There are also six dedicated macro keys along the left, a programmable wheel at the top, and a suite of media controls, meaning you can control your music or video playback directly from your keyboard. Overall, if you want a feature-rich keyboard for gaming, the K100 RGB is your best bet.
All in all, you're looking at an excellent key response, a decent spread of keys for most hand sizes, a satisfying tactile click to each press, and wonderfully dimpled keys to help you rest your fingers when you're not actually pressing down. While this all seems quite obvious, it shows that the K100 RGB nails the basics, as well as including the fancy extras, though it'll cost you.
Quick Tips for Buying The Best Gaming Keyboards:
Mechanical or bust?
RGB or not?
Full-size, tenkeyless, or smaller?
Pick Your Switch
What is the big deal with mechanical switches?
We can talk for hours about the feel of mechanical switches versus membrane switches, but ultimately that's a personal choice. Most gamers probably aren't even considering a non-mechanical keyboard. Only mechanical keyboard switches offer the tactile feedback, precision, and accuracy most gamers need, and membrane switches feel gummy and unresponsive by comparison. What makes mechanical switches objectively superior, however, is their far extended life span. They can take far more punishment and keep responding long after a membrane switch has collapsed in on itself.
What switch type to choose for your best gaming keyboard?
The switch type is arguably the most important choice to make when picking your new gaming keyboard or Gaming Mouse. Cherry mechanical switches are the most common and most recognizable, but there are a host of alternatives on offer like optical and Corsair OPX, as well as a bunch of upmarket, specialist switches to choose from. 
What size of best gaming keyboard do I need?
Keyboard size is absolutely a defining factor. Full-sized keyboards tend to offer the most features and a Numpad, but if you don't have space, then all of those extras you paid for will be useless. Tenkeyless boards drop the Numpad, 65 percent boards eliminate navigation keys, and 60 percent boards also cut the arrow keys. Some users, such as MMO players, want every possible key, while others prefer a smaller keyboard to clear up desk space. Tenkeyless boards and compact keyboards can be a great option, too, if you don't care about all the extra bells and whistles or you don't have any use for alt codes.