Gaming headsets are one of the most common accessories you'll find being sold in both physical and digital stores, and that's for a good reason. If you are a gaming enthusiast then you must need one of the best gaming headphones for playing professional games. Truly, the professional PC Gaming Headset is specially designed for gaming. And it allows you to hear the game audio and voice chat with other players more clearly.
Most gaming headsets are extremely soft on the ears, as it comes with a comfortable headband which means even if you wear them for long hours, the ears will not feel the pain. The sound quality will be better, and you'll be able to hear the game much clearer.
They also usually have built-in microphones, which can come in handy for recording gameplay or voice chat. Some people might say you only need them for like action games, but a good pair of headphones really just makes the game so much more immersive. And if you want to get the absolute best Gaming Experience, a good Gaming headset would be helpful.
For certain games, it can be really useful to exactly hear what's going on. In Battle Royale or Shooter-Games, it can definitely help to hear footsteps better and improve your overall performance. Also, it can help with team communication or just talking with new people in games online.
Gaming headsets can often be very handy and provide practical solutions to every gaming need that is required for experiencing and enjoying the game in the best way possible. Best gaming headphones paired with a good gaming mouse give you a better chance to react to your enemies.
With lightning-fast reactions to sound queues such as footsteps and gunfire, your enemies will never know what hit them. In addition to stereo sound, some gaming headsets offer surround sound.
Usually, it's important to have a Best Gaming Headphones because:
You can hear everything in the game not only from a competitive aspect but for immersion as well if you're into a story or an RPG game.
It keeps you focused and does not have to hear any background noise.
You don't have to disturb those around you. Especially if you're in a small room and don't want to disturb other people with the game sound.
You can give effective and precise coms to other team members and chat with them.
Fast-forward to today and there is a multitude of specialized headsets and microphones that are built with gaming in mind, custom-tailored to provide players with an enhanced experience by highlighting specific sound ranges.
But some gaming headsets can be a bit expensive, and some players may be questioning if spending the money on a gaming headset is even worth it compared to simply using an everyday pair of headphones or earbuds. Here's a look at what gaming headsets are all about, to help players decide if they even need a gaming headset.
1. SteelSeries Arctis Pro + GameDAC Gaming Headphones :
Specifications:
Compatibility: PS4, PC (with GameDAC), Xbox One, Switch, mobile (analog)
Drivers: 40mm
Frequency Response: 10 Hz – 40 kHz
Wireless: No
Details:
SteelSeries' Arctis Pro + GameDAC brings audiophile-grade features to the already excellent Arctis design. As its name suggests, this headset includes a DAC (digital-to-analog converter), which allows it to deliver high-resolution 96-kHz/24-bit audio. The GameDAC also allows for a wealth of customization options, whether you want to fine-tune sound via an equalizer or customize the headset's subtle RGB lighting.
Each component of the Arctis Pro + GameDAC Hi-Res gaming audio system is meticulously engineered to maintain pristine, powerful audio, from the digital output of the PS4 or PC all the way to your ears.
The GameDAC transforms any PS4 or PC into a high-performance audio source by bypassing the low fidelity, poor-quality DACs found in typical console controllers, USB headsets, and PC sound cards.
We found that the Arctis Pro sounds great for hi-res audio files, and is notably louder and crisper than the traditional Arctis line when it comes to games. If you're willing to pay a premium for high-res sound support and a ton of features, the Arctis Pro + GameDAC is one of the Best Gaming Headphones combos available. And if you already have a pair of headphones you really like working with, it's possible to buy the GameDAC separately.
2. Razer BlackShark V2 Gaming Headphones:
Specifications:
Wireless: No
Drivers: 50mm, Razer TriForce, Titanium
Connectivity: 3.5mm, USB soundcard
Frequency response: 12Hz – 28,000Hz
Features: Detachable noise-canceling mic, in-line cable controls
Details:
Dethroning the HyperX Cloud Alpha from the top spot was no easy feat. Razer's BlackShark V2 gaming headset manages to do just that by offering killer audio quality, great price, and easy-to-use software. From the moment Razer first started talking about the BlackShark V2, it was clear this was the main focus of the headset, and the design of the drivers themselves is effectively doing what the impressive Cloud Alphas do.
If you want to spend $100 or less to buy one of the best gaming headphones, you're probably going to settle for stereo audio or rely on separate surround processing. Fortunately, the Razer Blackshark V2 offers spatial audio through its bundled USB sound card and audio software, all in one affordable, wired package.
The V2 is an analog headset that connects to a 3.5mm jack just like the Astro Gaming A10, but it's meant to be plugged into the included USB audio adapter that provides surround sound audio processing. The card also automatically enables the THX Spatial Audio app through Razer's Synapse software platform, offering surprisingly strong directional imaging thanks to clever mixing between the drivers.
The 50mm TriForce Titanium drivers are designed with discrete ports to separate bass, mid, and tremble tones from interfering with each other. The result is a richer sound than a standard set and keeps it on par with HyperX's 50mm dual-chamber neodymium driver headset. They're like a tribute to HyperX's own design and no worse for it.
As an added benefit, the sound card enables audio tweaks through Razer Synapse that aren't available on headsets connected only through a 3.5mm cable. It enables many headphone and microphone audio tweaks, so you can get the best sound in both directions. That said, the V2 sounds excellent out of the box.
3. Logitech G535 LIGHTSPEED Wireless Gaming Headphones:
Specifications:
Compatibility: PC, Playstations, mobile
Drivers: 40mm
Frequency Response: 20 Hz – 20 kHz
Wireless: yes
Details:
The best gaming headphones at the budget level we've tested are the Logitech G535 LIGHTSPEED Wireless. Since they're found at a more affordable price point. They lack the premium features you'll see in our lower mid-range pick. Like Bluetooth support or an AUX port so you can use them wired. They also come with a wireless USB dongle, which keeps lip sync issues to a minimum. But it also means that you can't use these headphones with your Xbox console. If that's not a deal breaker for you, these wallet-friendly headsets can have over 33 hours of continuous playback time. And have a comfortable fit suitable for long gaming marathons.
G535 is designed for low-latency performance, freedom from wires, and lasting comfort for all your gaming sessions. Enjoy advanced LIGHTSPEED wireless, 33-hour battery life, and 40 mm drivers for crystal-clear and booming sound. Weighing just 236 grams with an adjustable headband. The suspension headband design helps distribute weight and relieve pressure points. While soft memory foam ear cups and sports mesh material ensure comfort during gaming sessions.
They have a fairly well-balanced default sound profile with a touch of extra punch & warmth to help liven up the gameplay. Although they're prone to inconsistencies in audio delivery due to fit, positioning, and seal. Their companion software offers a graphic EQ and presets to help you customize their sound to suit your preferences. For closed-back headphones, they can also create a decent passive soundstage that feels open, wide, and natural. Their mic performance is also fair. And while it doesn't stack up to any of the previous picks, it can still capture your voice clearly. Even if you sound thin.
4. HyperX Cloud Alpha Wireless Gaming Headphones:
Specifications:
Wireless: Yes
Drivers: Dynamic, 50mm with neodymium magnets
Connectivity: 2.4GHz wireless dongle
Compatibility: PC, Playstations, mobile
Frequency response: 15–21,000Hz
Features: Bi-directional detachable mic
Details:
The best gaming headphones in the mid-range we've tested are the ΗyperX Cloud Alpha Wireless. These are the first headphones on the list that only come in one general variant & can't connect to Xbox consoles. However, if you're a PlayStation or PC gamer, you can use their wireless USB dongle to take advantage of its very low latency.
While they lack a base station or wireless transmitter base. What makes them stand out from the pack is their outstanding huge battery. They last for more than 300 hours off of a single charge in wireless mode. While still keeping the headset relatively light and comfortable. It's a pretty massive feat and I feel HyperX has pulled it off. So they're worth considering if you find yourself running out of power at inconvenient times. You don't have the option of using them wired. But their auto-off timer can also help conserve battery life when you're not using them.
Out of the box, this unit was having about 80% charge. So we decided to leave it there to see how well that held. We spent a workday listening to music and checked the battery again: I swear it still said 80%. We have been using this thing for gaming & listening to music pretty consistently for the past week. And we aren't even at 50% battery yet.
They have a well-balanced, slightly v-shaped sound profile. Which adds extra thump and punch to your audio, while instruments and lead vocals are clear and detailed. They're prone to inconsistencies in audio delivery. This means, you may notice a significant drop in the bass if you have thick hair or wear glasses, as this can rupture the headphones' seal on your head. On the upside, their companion app includes a graphic EQ and presets to help tackle this issue. The top band is thick and has soft padding underneath. This coupled with the equally soft ear cups makes for a very cozy experience. And does an excellent job of blocking outside noise.
When playing games the directional sound is also very nice. I was able to easily track enemy movements by directional footsteps in a competitive Valorant match and easily tackled him.
Their mic makes your voice sound clear when you're gaming with friends. Even if you're in a noisy environment, they don't isolate you from much ambient sound.
5. Corsair HS80 RGB Gaming Headphones: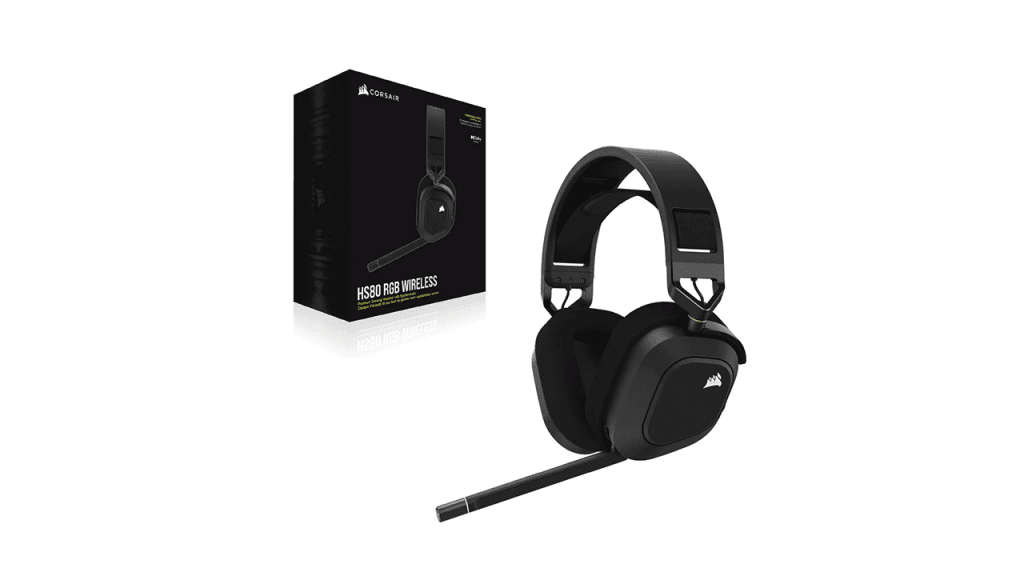 Specifications:
Wireless: YesDrivers: 50mm, Neodymium drivers
Connectivity: Slipstream Wireless Dongle, USB Cable
Compatibility: PC, Playstations, mobile
Frequency response: 20Hz – 30,000Hz
Features: Omnidirectional Broadcast grade mic
Details:
Corsair's new HS80 RGB Wireless Gaming Headset is easily one of the best gaming headphones the company has ever made. And also one of the best wireless headsets around in the market. It takes some of the best headset features available and executes them really well. At $150, it boasts the latest and greatest lag-free Slipstream Wireless tech, high-fidelity audio, and Dolby Atmos. The microphone is outstanding and the new design lets you wear them for ages without fatigue.
They're very well-built, with a comfortable elastic headband and cloth-covered ear cup padding. The flip-up boom mic has an impressive recording quality and does a good job separating your voice from background noise. Their latency via wireless or wired USB connection is low enough for gaming as well. Unfortunately, they don't isolate you from very much noise. And their roughly 13 hours of continuous battery life is quite a bit less than the advertised 20 hours.
It's said that imitation is the highest form of flattery. And now the new HS80 imitates some of the best headsets from Steelseries. Corsair has finally adopted the same floating headband design that uses an adjustable strap to evenly distribute the weight. Furthermore, the HS80 feels bulkier on my head than any Steelseries headset but at 370g, it's not much heavier.
The Corsair HS80 is satisfactory for neutral sound. They have a warm default sound profile, with an overemphasis in the high-bass range that adds some extra warmth & boom. But, they lack thump and rumble, while vocals and lead instruments are missing detail and clarity. However, it's the spatial audio where the HS80 surprises, with impressive 3D audio and accurate positioning. This, as you can imagine, is great for games like first-person shooters or large open-world environments. This is made even better with support for Dolby Atmos and Corsair provides an automatic license with the headset.
Fortunately, you can customize the sound profiles with a graphic EQ and presets in the companion app. They're also prone to inconsistencies in audio delivery. So you may want to spend some time adjusting their fit and positioning to experience the same sound each time.
The Corsair HS80 is a great headset. It sounds great in both games and other media with a wonderful implementation of Dolby Atmos.